Guys, I have some not so great news. This was not an easy post to write. Yesterday was a strange and sad day. I had a phone appointment with one of my MDs after she'd ordered some tests. As I held my breath, crossing my fingers through the appointment, hoping for the best, I was shocked when she read the lab results: I was positive for Lyme disease.
Some of you may know I've been through a gamut of doctors through my pre-teens up until now. I've struggled with a few autoimmune diseases, but not one practitioner had been able to get to the bottom of why I didn't seem responsive to most any treatments and why new symptoms and problems kept creeping up. I didn't realize that autoimmune diseases could go hand-in-hand with Lyme disease.
Sometimes the symptoms I experience, like the fatigue, can hit hard and worsen quickly, even within a matter of hours. Often that can be accompanied with not being able to concentrate and dizziness. There are so many symptoms at times it's often baffling.
One of the strangest things about all this is I have no memory of ever being bitten by a tick. When I mentioned this to my doctor, she said it's common for patients not to remember. She also asked where I grew up, wanting to zero in on my history. When I told her Anaheim Hills in southern California, a dark look passed over her face. She said that there is a lot of Lyme there. I truly was baffled as I thought it was more of an East Coast issue.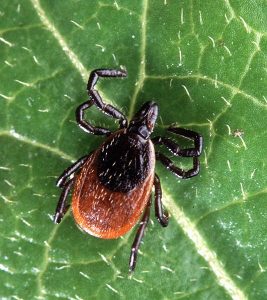 I went on to tell her I had a sister who passed away and who had a tick bite at a young age (My sister never had a Lyme diagnosis, but my family and I are now wondering if there was a connection with her symptoms.). Our family also had a dog when I was little who was bitten by two ticks. Needless to say she ordered lab work right away.
To say I'm frightened for what's ahead is an understatement. Reading about certain people and even celebrities like Avril Lavigne, Yolanda Hadid, Alec Baldwin, Ben Stiller, Ashley Olsen, Ally Hilfiger, Amy Tan, and Kelly Osbourne who have battled Lyme disease, is pretty scary.
I think I'd also like to make a point for the sake of transparency that sometimes social media can be rather illusory and doesn't paint a full picture of people's lives, (especially those with an illness or any condition – physical or mental – that isn't visible from the outside). Most people typically post the highlights of life as they put best face forward online. I know I do (cue pretty, magical nature photos, writing highlights, funny videos, etc.). I'd also say that goes ditto to an extent in real life as well.
I tend to like to stay positive and not dwell on the negative, but I have to say that my daily life is no cakewalk. Some days (or hours, for that matter) are better than others, and on the good days I try to take pictures, make videos, or post, write, or do whatever I'm able to, including run-of-the-mill tasks at home, etc.
I try to celebrate every time I can get things done or do something fun, which pretty much encapsulates when I post. But I usually have to go pretty slow, have down time, and also put best face forward and push myself really hard when I'm out and about. I'd say most people look at me and would never know that I am ill, which can be a double-edged sword.
All that aside and on a positive note, among the ripples of shock and fear, I do have to say I am somewhat relieved by the news. My heartbreaking, cross-country 20-year quest, which included seeing 18 + doctors/specialists to try to figure out what was wrong has hopefully come to an end. I'm glad I kept fighting for answers and didn't give up even when I was told I was "fine."
I know this is only the beginning, as there's a lot of treatment coming down the line – my boyfriend and I have even started looking into different treatment options, with some very interesting and promising ones being in Germany – but at least I know how to zero in on this. I'm hopeful that when I find the right treatment, I will start feeling better. 😀
Now, onto you guys: I wanted to ask if any of you have Lyme or know of someone who has Lyme disease? Boy, would I love to hear from you. There is a lot of information to take in about this disease. Any help would be great or any cute, pink heart emojis you'd like to post in the comments below would be fantastic, too. 😀 Last, if any of you are struggling with your health and can't find answers, believe in yourself and keep fighting! Thanks for reading! I know this was a long post! 😀