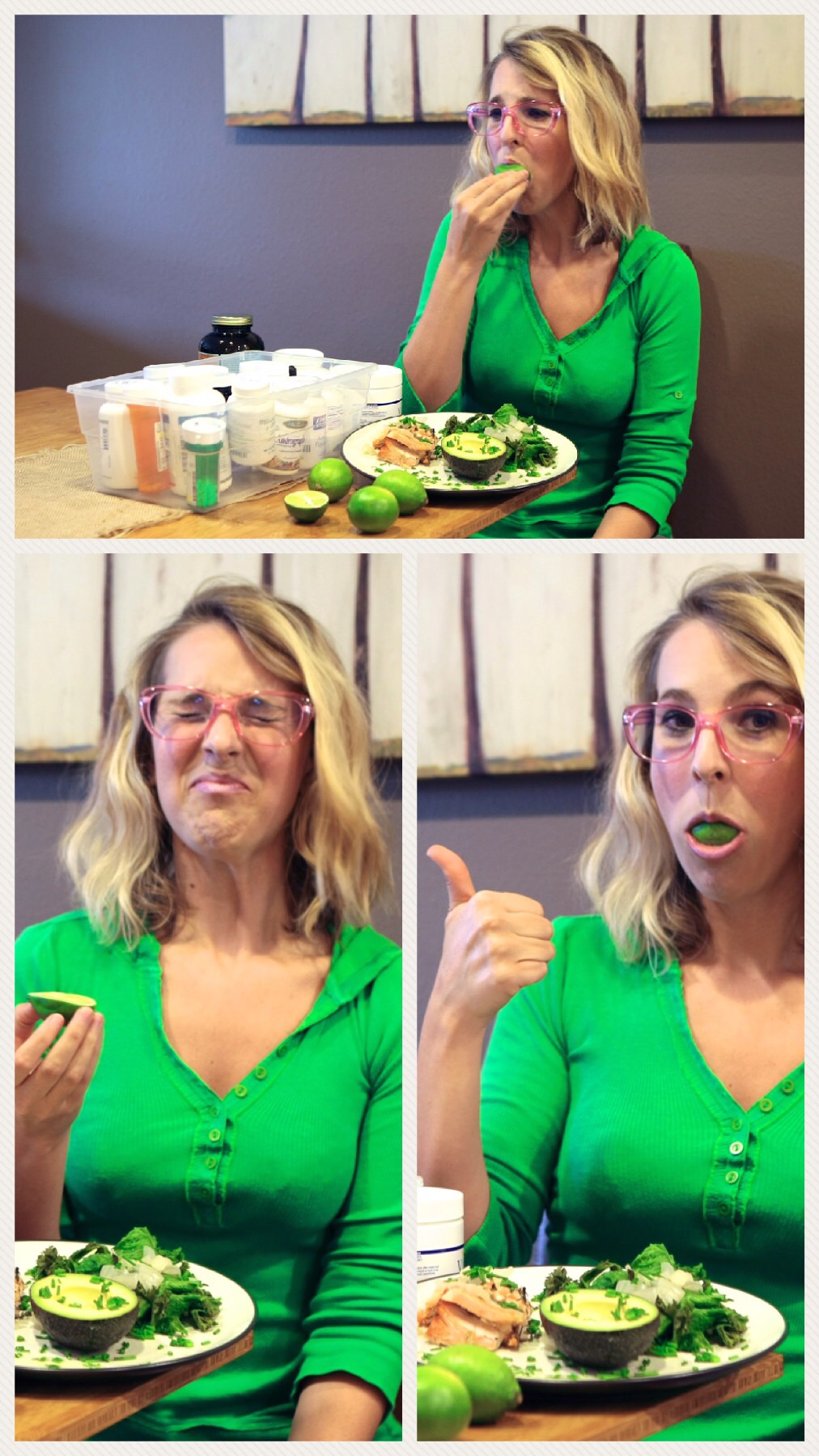 I'm coming for you, Lyme disease. I know it's going to take time to figure you out and to hopefully start feeling better, but I'm coming for you just the same.
I've been increasingly overwhelmed since getting diagnosed three weeks ago, which you can read about here, and trying to learn as much as I can about Lyme disease. I've also been completely dazed by all the new regimes, (daily Epsom salt baths, etc.) new diet (low-lectin), and supplements (too many to name here), etc. that must be added to the medications I was already taking. I'm preparing to feel a lot worse before feeling better.
During these past three weeks, I found out that May is Lyme Disease Awareness Month, which is hosted by Lyme Disease Challenge. Part of their challenge entails biting a lime, taking a picture or video, and stating one or two facts about Lyme disease. (No ice buckets here. Hee.) 😉 So here's me sitting in front of a part of my new regiment, with more pills and supplements coming soon, while I chew a lime.
Regarding facts about the disease, I think most importantly I've learned that Lyme has a spectrum. Most people experience chronic, debilitating pain; however, I did not and that is part of the reason I went under the radar without getting a diagnosis for two decades. In other words, you don't need all the symptoms you see turning up in the first couple hits of a Google search about Lyme. Lyme has many faces, and what symptoms you have can be heavily influenced by one's genetics and immune system.
The second thing I learned via North Carolina MD Bill Rawls, who contracted Lyme disease years ago is: "Classically, Lyme disease is divided into three phases: Early Localized Disease, Early Disseminated Disease, and Late Disseminated Disease. The Center for Diseases Control (CDC) and the Infectious Diseases Society of America (ISDA) also recognize Post Lyme Treatment Syndrome (PLTS), in which individuals who have been 'adequately treated' with antibiotics remain symptomatic." Late Disseminated is what most people call chronic Lyme, even though it's not a term recognized by either the CDC or ISDA.
Below, I've put up Lyme Disease Challenge's quick-fact sheet on the disease, including countries where Lyme has been found and which states Lyme cases have been reported (Sadly, it looks like almost every state in the U.S. has reported Lyme.). So be careful, everyone, as we are now rolling into tick season. I've seen multiple news outlets report that this year is supposed to be a very bad year for ticks.
If any of you are participating in the Lyme Disease Challenge, I'd love to see your lime faces. Please link to your social media below so I can follow and find you!
Last, if you don't want to miss any updates, please subscribe to my email newsletter below. (I don't sell email addresses. No one likes that, especially me, and that's just evil and punishable by unicorn horn impalement. Truly).
Thanks for reading and stay safe, guys!