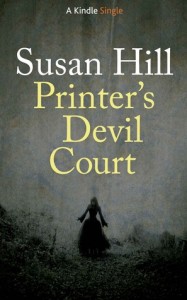 I've been looking back at some of the memorable Gothic fiction and ghost stories I've read this past year and wanted to share my favorite reads. Some are modern, some Victorian and Edwardian, but all are creepy-delicious.
1) "Printer's Devil Court" by Susan Hill
First off, I love Susan Hill to pieces. Hill wrote "The Woman in Black" back in the '80s and the novella has been adapted into a film staring Daniel Radcliffe just a few years ago. I'm making my way through all of Hill's ghost tales and this novelette was the perfect short romp.
"Printer's Devil Court" spans the early 20th century and is a ghost story about a doctor who witnesses two physicians trying to bring deceased patients back to life. However, there is a terrible mix-up between the patients. I particularly enjoyed the woman's ghost in this story. Definitely a departure from "The Woman in Black" but just as haunting. Very Frankensteinian and atmospheric, again reaffirming Susan Hill is truly a modern master of the genre.
2) "Man-Size in Marble" by Edith Nesbit
I remember reading a couple of years ago that J.K. Rowling loved Edith Nesbit's books. It's easy to see why, and Nesbit's detailed, vivd descriptions pleasantly reminded me of Rowling's.
In well-crafted Gothic stories the setting needs to be its own character. Nesbit wastes no time describing shadowy moonlit scenes, which sets the perfect ominous tone. The story opens with a newly married couple who buy a cottage in the English countryside. After settling in and hiring a local woman to be their servant, the husband discovers that their property was once part of a larger estate that belonged to a pair of evil lords. The men were commemorated as marble knights and their statues lie on top of their coffins in the town's church. However, local legend says that every All Saint's Eve the effigies leave their coffins and return to their old place of residence.
Wish there could've been a little bit more hinting at the backstory of the lords and their devious past, but all in all this short story was a Gothic treat.
You can read the story here for free.
3) "The Phantom Coach" by Amelia B. Edwards
I really loved this short story by Edwards. Very classic in nature. A newly married gentleman finds himself lost after a hunting trip and ends up caught in a snow storm at night. He finds lodging with a reclusive scientist who seems to have been shunned by his peers for his supernatural viewpoints. After the scientist tells the main character that a mail coach is expected to drive by up the road, the main character sets out to grab the ride and get home. The scientist's attendant accompanies the man out to the crossroads to meet the coach and tells him a chilling story about the carriage. It isn't long before the attendant leaves and the protagonist is picked up by the mail coach. The fun ensues.
I loved this Victorian tale and look forward to reading more of Amelia's work. As a funny aside, the title reminded me of something Carolyn Keene would use in her "Nancy Drew" series:
You can read "The Phantom Coach" here for free.
4) "Thurnley Abbey" by Perceval Landon
Was so disappointed to see that this is the only ghost story written by Perceval Landon. His prose and style are quite good. This is an Edwardian era tale (written in 1908) primarily narrated by a veteran who recounts the acquisition of his friend's estate: Thurnley Abbey. The townspeople all believe that a ghost haunts the Abbey, but the main character and his friend who owns the property don't really believe in the supernatural. Ha! I'm sure you can guess what happens.
Truly one of the most chilling descriptions of encountering a ghost in classic literature I've read. I'd go as far to say even better than M.R. James' illustration of his ghost in "Oh, Whistle, and I'll Come to You, My Lad." This is a treat for classic horror fans and is definitely one I'll read again and again.
You can read "Thurnley Abbey" here for free.
5) "The Signalman" by Charles Dickens
Another great ghost story written by Charles Dickens in addition to "A Christmas Carol." This one was written in 1866 and revolves around a railway signalman. The signalman repeatedly sees a ghost who warns him of impending railroad accidents, including one that the signalman himself will play a part in. Chilling tale with an ironic twist ending, which I'd say is open to interpretation. I've said it before, and I'll say it again: Nobody does it like Dickens.
You can read "The Signalman" here for free.
6) "The Madman's Daughter" by Megan Shepherd
I know I said I'd list only five stories in this post's title and this last book doesn't have a ghost in it, per se, but it is an exquisite, Gothic thriller worth mentioning. "The Madman's Daughter" by Megan Shepherd is a retelling of H.G. Wells' "The Island of Dr. Moreau." Told from the perspective of Moreau's daughter, the reader followers her through a twisted journey across the sea to find out if her mysterious father is still alive and up to his old dark experiments.
Shepherd is a fantastic writer and draws you in at every turn. You'll definitely wonder who is safe and who isn't throughout the story, and the premise of the island experiments and secrets is just too alluring to pass up.
That's all for now, but stay tuned for more ghostly recommendations. And if you haven't checked out the top five reasons why "The Woman in Black" by Susan Hill is the best English story ever written, float on over here.