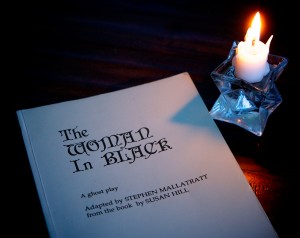 The end is nigh for the first revision/edit on my ghost story novel I'm currently co-writing. For some inspiration as I see my way to the finish line, I got my hands on the play The Woman in Black adapted from Susan Hill's 1983 novel.
I absolutely adore The Woman in Black. It's definitely one of my favorite ghost stories along with The Legend of Sleepy Hollow. British author Hill wrote the classically written novella in 1983, and Stephen Mallatratt adapted it into a play in 1989. The production is now the second-longest running play in London's West End.
Reading the play brought me right back into the haunting world Hill created. Once again, I was drawn in by the suspense of the menacing ghost and her troubling past at Eel Marsh House. Even better was that the play adds a new twist on the ending of The Woman in Black, making it all the more chilling.
The 'Adaptor's Note' written by Mallatratt at the beginning of the play's script also caught my eye. He owes a lot of the success of this adaption to one very important factor:
"Darkness is a powerful ally of terror, something glimpsed in a corner is far more frightening than if it's fully observed. Sets work best when they accommodate this – when things unknown might be in places unseen…. In the current London production we deny the audience a satisfying look at her [The Woman in Black] until her final moment…"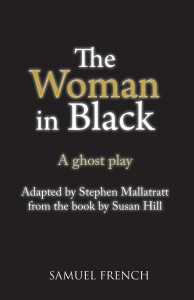 I wholeheartedly agree with Mallatratt. Ghost stories are much more satisfying when the plot and creepiness unfold behind the scenes. Understated is always more in the genre and this is evidenced by The Woman in Black and other successful ghost stories like: Oh, Whistle, and I'll Come to You, My Lad, Thurnley Abbey, and The Legend of Sleepy Hollow. Those stories' ghosts aren't revealed in all of their terrifying glory until very close to the end.
If you are a fan of Victorian and Edwardian era ghost stories, I highly recommend reading Mallatratt's adaption of The Woman in Black. Now if I can only get over to London to see it live, my life will be complete. 😉
A big thanks for stopping by and reading this post. If you have a favorite, classic ghost story, please leave the title below in the comments. I'm always on the look out for well-written ghost stories.
Also check back soon for more ghost-inspired posts or if you don't want to miss updates, subscribe to my email newsletter below. BTW, I don't sell email addresses. Nobody likes that, especially me, and that's just evil and punishable by unicorn horn impalement. 😉
[wysija_form id="1″]
Stay enchanted!
Davonna