What are teens checking out?
Do parents check out books with their teens?
Do more teen girls use the library than teen boys?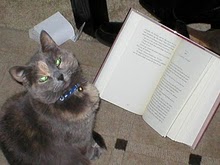 Look no further for these answers as fabulous teen librarian Melissa Wheelock is about to reveal all.
Now starting her seventh year at her local public library, Melissa has always loved to read, and is especially fond of reading YA books. (Woot!) Even cooler, she loves promoting books to teens and just about anyone she talks to.
In addition to her day job, she also has been seriously blogging at Mel's Books and Info since January, and really enjoys getting the chance to share her thoughts on books with other bloggers, readers, and authors. And at home, she has a wonderful husband who puts up with her obsession with books and a sweet little boy who loves it when "Mommy or Daddy reads to him."
So, first, tell us a bit about what a typical day in the life of a teen librarian is like?
"I get a lot of requests for paranormal fiction whether it is faeries, vampires, werewolves, zombies, or even angels."
A typical day can be kind of hectic. In my library system I am the only teen librarian for all three branches and for our two bookmobiles. Anything that concerns teens in the library usually finds its way across my desk. I'm also an Adult Reference Librarian, so I spend a lot of time on the Reference Desk.
Throughout the day, I do book orders, help teens and adults find books, and work on teen library programming. We have a lot of teens coming in for Accelerated Reader books, so I help them find books that they want to read.
Have you seen an increase in teen library use during the economic downturn?
That is a tricky question. We just finished remodeling our library, and for about a year we were in a temporary location, which decreased many of our statistics. But one thing that I have noticed is that teens are requesting more items for purchase, so in a sense that may reflect an increase in one aspect of library use.
What are teens checking out? What are some of the trends in YA literature that teens are steering towards and away from?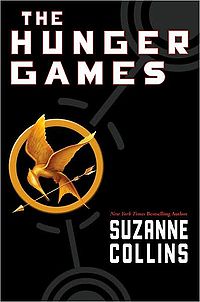 I am seeing a lot of requests for anything paranormal and Twilight related. I get a lot of requests for paranormal fiction whether it is faeries, vampires, werewolves, zombies, or even angels. Anything in that genre is popular.
On the other side of the spectrum, the dystopian books like Hunger Games have also been popular.
Chick lit is still big, but perhaps not as big as it was a couple of years ago.
Do you see more teen girls in the library, or is it pretty balanced with teen guys too? If one more than the other, why do you think that is?
This is an interesting question. I see a lot of both guys and girls in the library, but they come for different reasons. The guys come in primarily to use the computers in our new teen room. I can usually count on having several guys everyday using our computers. While the girls appreciate the computers too, many of them are here looking for books or to socialize.
What issues/themes are important to teens in the books they read?
Anything that is relevant to the way they live now. School violence and bullying are coming up in a lot of the books that are going out. Even though they may be wrapped in a paranormal shell, you still see the main character being picked on or isolated from the rest of the teens in their society.
Do you see a rising popularity in teen books with adults? If so, why do you think that is? Do you have a favorite YA author?
Definitely yes! I can't tell you how many adults are now finding their books in the YA area. I think a lot of this started with Harry Potter, but then Twilight came along and made it more pronounced. It probably doesn't help that I tell all the staff what I am reading and rave about it, then they all read it and do the same.
One of my coworkers told me today that she managed to get several members of her church choir reading Hunger Games and they are all adults. I think adults have started to realize what great literature is out there for teens. Our community's ONE BOOK ONE CITY program this year even had a YA book on the top ten list.
As for my favorite YA author, there are several, but I will spare you pages and list my top two. Tamora Pierce has been my favorite author for a very long time. She is the author that really got me interested in reading when I was in Middle School. The other is a new favorite. Over the last year I have found myself loving Julie Kagawa's Iron Fey series, and Iron Queen just may have solidified her spot as one of my favorite authors.
How often, if ever, do you see parents coming in with their teen to pick out books?
Usually when the teens are here for books, the parents aren't far behind. I especially see this with the teens coming in to pick out Accelerated Reader books for their school lists.
Have you ever had to deal with challenges over YA's that included sex or some other controversial issue from a teen's parent?
At our library most challenges are dealt with by our Head of Collection development. Since we are a public library we don't receive a lot of formal challenges. In the time I have been there, I can only recall having a couple. I also try to listen to both the teens and the parents when I recommend books so we can avoid books that would make them uncomfortable.
If you could give one piece of advice to YA writers, what would that be?
Make sure that whatever you write is relevant; whether it is realistic fiction, fantasy, or anything in between. It needs to reach the audience. If there is something in there that makes the book connect to the reader, you will find your audience. Teens are picky, but if your book is relevant to their lives, something they can relate to, or are familiar with, it will appeal to them.
Thanks for stopping by, Melissa, and for answering all my burning questions!