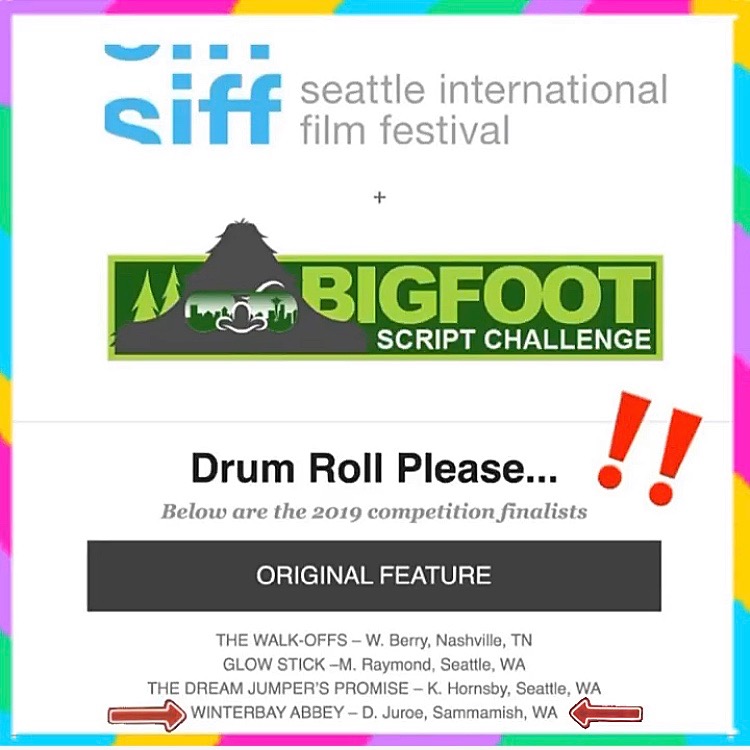 Some big news today, friends! "Winterbay Abbey: A Ghost Story" has been chosen as a finalist in the Seattle International Film Festival's (SIFF) screenwriting competition (hosted this year by the Bigfoot Script Challenge)!!! My co-author, John Bladek, and I couldn't be more thrilled!
The winner's prize includes an exclusive fellowship with LA producer, Sean Robbins of Paramount Studios' shingle Broken Road Productions (13 GOING ON 30, HELLBOY). This year, the winner gets to work with Robbins to develop their material.
Just a few of the Hollywood judges this year include studio exec, John Chen (WONDER WOMAN), writer Jamie Moss (X-MEN: FIRST CLASS), and also many more, including Artistic Director of the Seattle International Film Festival, Beth Barrett.
The winner will be announced at the Seattle Film Summit on Sunday, November 17th. PLEASE CROSS YOUR FINGERS FOR MY CO-AUTHOR AND ME! Thanks for all your support, everyone! Our fingers are crossed! 🤞🤞🤞 Please check back for updates or sign up below for our newsletter!