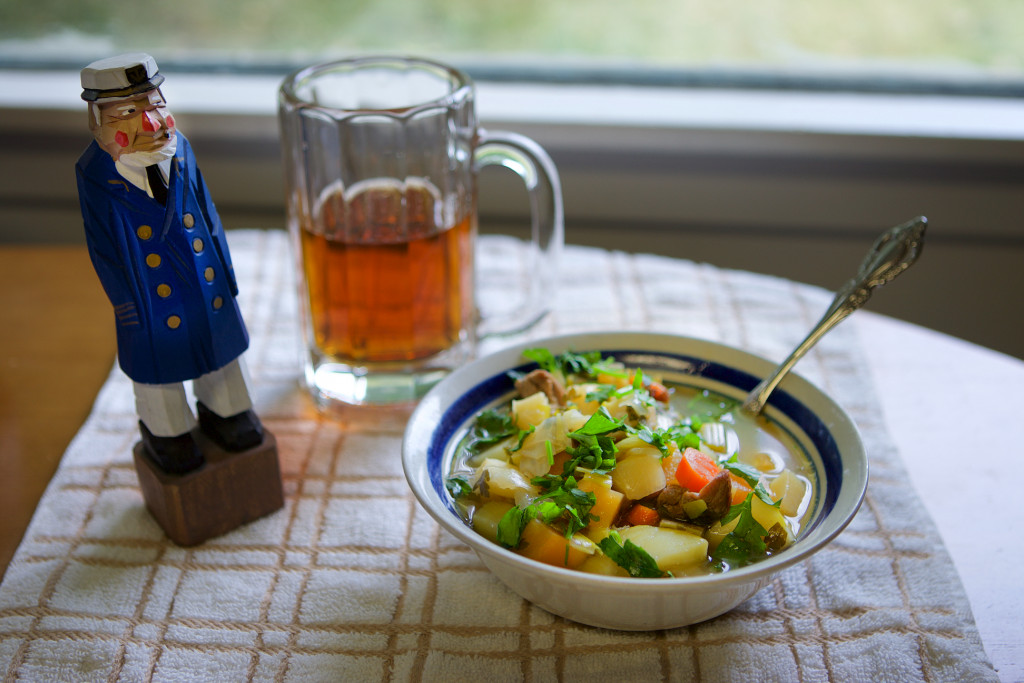 I love food and especially when it's mentioned in fiction. Whether it be treacle tarts and chocolate frogs in "Harry Potter" or the "Eat me" cakes in "Alice in Wonderland", food described in fiction helps to bring the story to life.
In my new ghost-story novel "Winterbay Abbey", one of the characters, Duncan, is from Wales, so I was specifically keen on researching traditional Welsh foods and adding them into the novel. Because the book is set in Maine against a backdrop of very cold weather, looking up soup recipes made sense to me.
If you are Welsh you will no doubt know of  cawl.  Cawl  is a traditional Welsh soup and/or broth with variations dating back to the 1300s. While the recipe has been modified over the centuries to include lamb and potatoes, its core ingredients have always included rutabagas (or swedes if you live in many parts of England, Wales, Australia, and New Zealand), carrots, and seasonal vegetables. According to Wikipedia: "The dish was traditionally cooked in an iron pot or cauldron over the fire and eaten with wooden spoons."
In one particular scene in "Winterbay Abbey", Duncan — who owns a cauldron — serves  cawl  to the main character in the story. I thought it would be fun to adapt and test some  cawl  recipes and include my/Duncan's version here for you all to make. I have to say that this is now one of my favorite soup recipes, and with the Fall months now upon us, it's the perfect timing for you all to put your stockpots to work.
Duncan's Welsh Cawl Soup
10 cups (80 ounces) of beef broth (I usually make my own bone broth from scratch, but if I don't have any on hand, I will use Pacific's Beef-Bone Broth.)
2 tsps extra virgin olive oil
3 ½ lbs lamb shoulder-blade steaks cut into ½ chunks
2 rutabagas, peeled and cut into ½ chunks
2 carrots, peeled cut into ½ inch chunks
3 Russet potatoes cut into ½ inch chunks
2 peeled parsnips cut into ½ chunks
3 leeks
1 yellow onion
½ a bunch of fresh Italian flat-leaf parsley, chopped (reserve some for sprinkling)
5 strips of bacon, crumbled (optional)
Serves 10
1. Turn your stove to medium heat and add 1 tsp olive oil to a skillet. Add lamb chunks and stir till coated with olive oil. Add ½ tsp salt. Brown for 20 minutes. Add three cups of water. Turn up heat till boiling and cover for up to 45 minutes or until tender.
2. While lamb is cooking, strip outer leaves of the leeks, and cut the remaining leeks into ½ inch chunks and set into a bowl. Chop onion and add to the leek bowl. Prep all other vegetables and set aside. Preheat a large stockpot on high heat. Add 1 tsp oil, chopped onion, and leeks. Stir for 4 – 5 minutes or until seared.
3. Add the beef broth, lamb chunks along with the water from the skillet, carrots, parsnips, rutabagas, potatoes, 1 tsp of salt, and parsley to the stockpot. Bring the soup to a boil, and then turn to low for 15 minutes or until rutabagas and potatoes are pierced easily with a fork. Turn off heat. Salt and pepper to taste and serve hot sprinkled with parsley and bacon.
I can say without a doubt how perfectly yummy this stew is. If any of you make the recipe, I'd love to hear how it turned out!
Thanks for stopping by, and if you don't want to miss updates on all things ghostly and fantastical, subscribe to my email newsletter below. BTW, I don't sell email addresses. No one likes that, especially me, and that's just evil and punishable by unicorn horn impalement. Truly! 😉