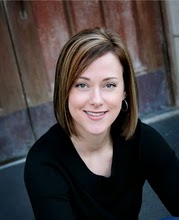 Sonia Gensler grew up in a small Tennessee town and spent her early adulthood collecting degrees from various Midwestern universities. A former high school English teacher, she now writes full time in Oklahoma. Over the past couple of weeks, I had the privilege of interviewing Sonia and was transported back in time listening to her talk about her forthcoming YA paranormal historical novel "The Revenant" (Knopf) due out June 14th, 2011. Her musings were nothing short of captivating:
Can you give us a summary of "The Revenant?"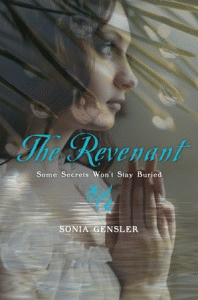 I'm terrible at short summaries of my stories, but I like this one-sentence offering from WorldCat: "When seventeen-year-old Willemina Hammond fakes credentials to get a teaching position at a school for Cherokee girls in nineteenth-century Oklahoma, she is haunted by the ghost of a drowned student."
How did the idea come to you?
Two of my critique partners live in Tahlequah, Oklahoma. The first time I visited, my friend Martha pointed out Seminary Hall (now part of Northeastern State University) and told me it once was a boarding school for Cherokee girls. My brain instantly exploded at the story potential. The more research I did, the more exciting those ideas became.
How much research was involved?
A lot, but research is my favorite part! I visited the Oklahoma Historical Society Research Center, as well as the Northeastern State University Archives and the Cherokee Heritage Center. I spent a lot of time exploring Tahlequah in order to get a better sense of the setting, and I spoke with Richard Allen, policy analyst for the Cherokee Nation, in order to gain his perspective on the Seminary. Added to that was a lot of book research on the seminary, Oklahoma History, and 19th century American culture in general.
Can you give us a history of the Cherokee National Female Seminary?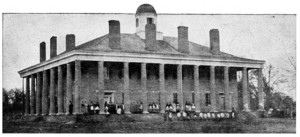 The Cherokee Nation established the first female seminary in 1851, twenty years after the devastating Trail of Tears. The school was modeled after Mount Holyoke Female Seminary in Massachusetts (a school attended by Emily Dickinson). Sadly, this building burned in 1887, but within two years a new structure was built. This newer building (the setting of "The Revenant") now stands as the centerpiece of Northeastern State University. Learn more about the female and male seminaries at the Encyclopedia of Oklahoma History and Culture.
Tell us about the seminary's ghost tours?
"The ghost stories surrounding Seminary Hall mostly revolve around the seminary's longtime principal…"
Sonia Gensler
Every October the Graduate Student Association at Northeastern State University offers lantern-light tours of Seminary Hall that focus on creepy encounters documented within the building. Learn more from this article or visit their Facebook page!
Did you model "The Revenant" after one of the seminary ghost stories?
Not at all. The ghost stories surrounding Seminary Hall mostly revolve around the seminary's longtime principal, Florence Wilson. Even though she died in another state, some believe she still haunts the school – the place where she felt most fulfilled, perhaps? I wanted my ghost story to revolve around students, and I threw in betrayal and murder just to spice things up!
What was one of the most interesting facts you learned while researching?
I was intrigued that the seminary admitted students who were as little as 1/128 Cherokee. According to Devon Mihesuah, author of Cultivating the Rosebuds, tensions developed between lighter-skinned, mixed-blood Cherokee girls and their full-blood classmates. I know from the school catalogs that the seminary did not include the Cherokee language or Cherokee customs/history in its curriculum for girls. The school was trying to model an elite east coast female academy as closely as possible, and it seems there wasn't always room in the official curriculum for traditional Cherokee learning.
What was the hardest part about writing "The Revenant?"
I was worried about depicting the tensions at the Cherokee Female Seminary in a respectful way. It was an amazing school, and the Cherokee people are proud of it to this day, but the students encountered conflict and snobbery just as they do at contemporary schools. I endeavored to portray this as accurately and sensitively as possible.
Who are some of your writing influences?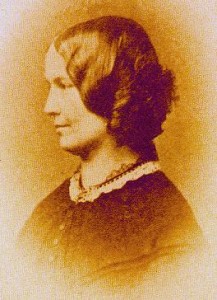 First I'd have to mention Anne Lamott, whose Bird by Bird taught me it was okay to write a "crappy" first draft. (She actually used a stronger word, but you get the gist!) As far as my style and subject matter, I would say that my YA influences include Libba Bray, Meg Rosoff, Jennifer Donnelly, Linda Newbery, and L.M. Montgomery. Adult fiction influences include Charlotte Brontë, A.S. Byatt, Sarah Waters, and . . . gosh who am I forgetting? (Seems like I wrote a blog entry on this topic once — oh yeah, here it is!)
I know you love Victorian ghost stories. Are you a long time fan? What are some of your favorites?
I was terrified of ghost stories for the longest time. When I was a kid I thought my dad's house was haunted. I lost A LOT of sleep over the creepy nighttime noises in that place. But my attitude began to shift after I watched The Sixth Sense and The Others – these films sparked a new obsession with ghost stories because they were strong on character as well as spooky bits. What I love most about ghost stories is delving into the mind of a haunted character. But neither of those films is set in the Victorian era, so to answer your question I would recommend Henry James' The Turn of the Screw, Edith Wharton's "Kerfol" or Elizabeth Gaskell's "The Old Nurse's Story." More recently written ghost stories set in the Victorian era are Susan Hill's The Woman in Black, Patricia Clapp's Jane-Emily, and Clare Dunkle's The House of Dead Maids.
Do you have the same love for the Victorian era in general? Can you tell us a bit about your favorite aspects of that period?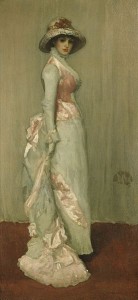 I'm obsessed with the clothing, etiquette and social restrictions of the Victorian era. I know it wasn't a time of female empowerment, at least as we would define that today, but I'm inspired by the stories of women who worked around the rules – the ones who published novels, were professional artists or photographers, or fought for educational reform and women's suffrage. Mostly, however, I enjoy stories of women who manage to follow the rules while at the same time defining themselves as different or even slightly eccentric – as wanting more than an economically secure marriage and ten children. I've always been more drawn to characters who flout convention in small but effective ways, thereby pursuing their passions without thoroughly forfeiting their social standing.
Do you notice a high teen interest in the Victoria era? What do you think draws them to this time?
I hope it's the things I've mentioned above! Mostly I think the restriction on physical intimacy between boys and girls heightens the romantic tension in historical novels. Readers of all ages respond to that. And in fiction, 19th century women can bend the rules even more – they can be spies, foretell the future, practice magic, or slay vampires – all while wearing their corsets and pretending to be proper young ladies. This makes for great dramatic tension!
How did you find your agent, and can you tell us about your journey to publication?
I found my agent the traditional way. I did exhaustive research, and then I queried. Keep in mind, however, that it was my second completed novel that got me an agent, and it was my THIRD completed novel that got a book contract.
What would you say is one of the most difficult aspects of being a writer?
Rejection. Does it ever get easier? I mean, along the journey to publication, agents and publishers reject your book, and then when the poor baby FINALLY gets a contract, a certain portion of readers will reject it. It's absolutely normal and expected that your book won't match everyone's tastes, but knowing that doesn't always make the rejection easier to bear. Maybe I'll grow a thicker skin in the future?
What's one piece of advice you would give to aspiring authors?
Read EVERYTHING in your genre/age group. You really need to know the market you're writing for. This will not, as some people seem to believe, taint your own writing – rather it's going to help you offer something that is both appropriate and unique to the market.
I research. Then I brainstorm. And then I outline. My outline needs to be pretty detailed before I'll start drafting. During the drafting process I whine and tear at my hair a lot. My drafts are UGLY. Revision is more fun. As for a daily ritual, I don't really have one. I do find that I'm more productive in the afternoons, and it's always helpful to have a steaming cup of tea (w/ milk and sugar) at the ready.
What are you working on now?
More gothic and ghostly stuff, of course! Can't elaborate just yet.
If you could travel back in time, what advice would you give yourself at the beginning of your writing career?
Finish a novel before you pitch it a conference. (Ugh. I was stupid.)
How can fans contact you?
Fans! Can I have some, please? 🙂 If I were to have a fan, she/he could find lots of ways to interact with me at my website: http://www.soniagensler.com. My Facebook and Twitter links are there, plus my email address and more! Thanks for stopping by, Sonia, and best of luck on the release of "The Revenant!"