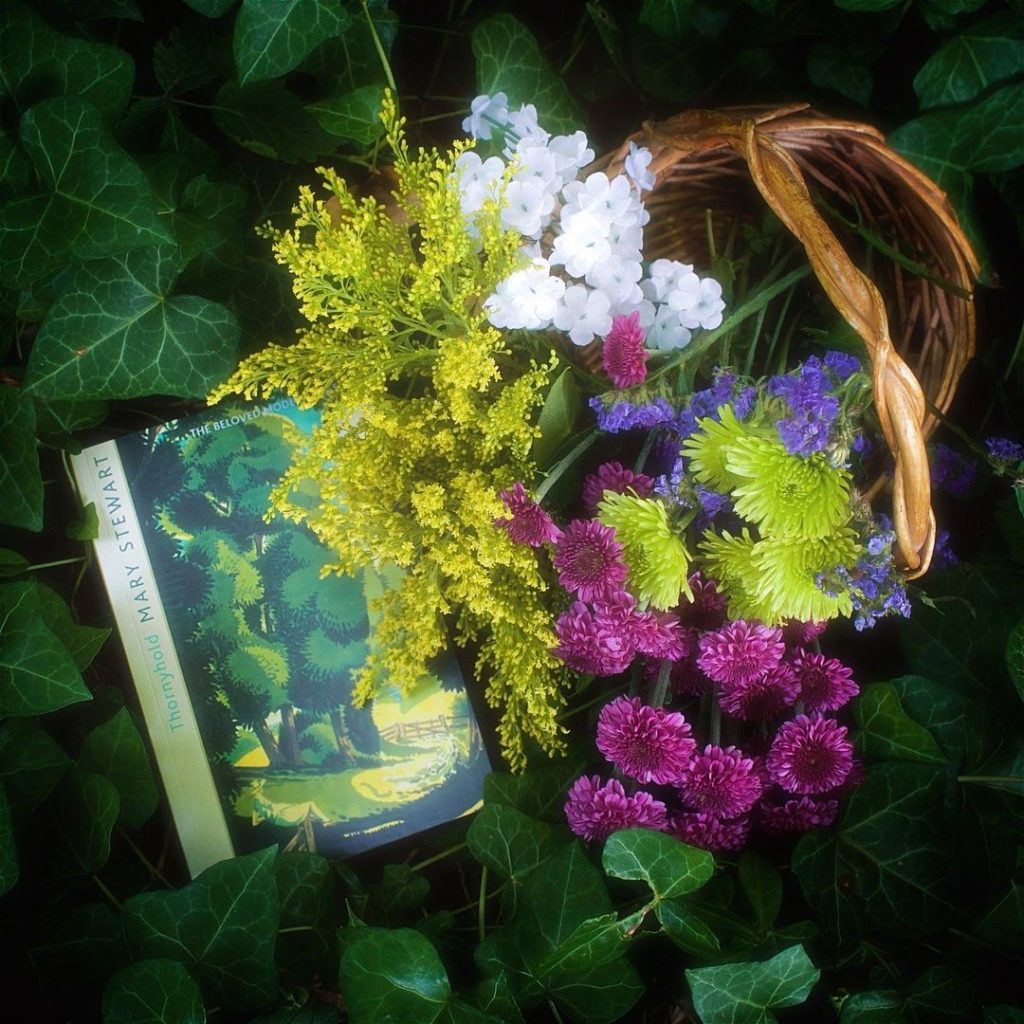 "I suppose that my mother could have been a witch if she had chosen to." – Mary Stewart
And so begins the first line of Mary Stewart's novel, "Thornyhold"….
Greetings all, and a very Happy Halloween season to you! I wanted to share one of my favorite whimsy, magical reads this year, and especially right now with all the season's bewitching enchantment in the air.
I'd picked up "Thornyhold" (Hodder & Stoughton, 2017) on a recommendation from a friend in the fantasy community and was so glad I did. It truly is the perfect light-hearted read right now. I was first introduced to Mary Stewart after a Scottish family friend gave me a copy of the "Crystal Cave" as a gift in 4th or 5th grade. I was a little too young at that time to really appreciate Mary Stewart and had only associated her with the Arthurian legends. So, I was very surprised to see she'd written in other genres and was pleasantly dazzled by this book!
Originally published in 1988 by Hodder & Stoughton, the novel takes place in the English countryside in the post-war 1940s. After a rough start in life and now grown up, Geillis Ramsey moves into a new town after her godmother, who has magical tendencies and is wise in herbalism, has left Geillis her home of Thornyhold. But Thornyhold holds a magical mystery and a secretive past, which Geillis must piece together to help save her neighbors from impending "supernatural" calamities.
Pastoral and beautiful with lyrical prose, Thornyhold is what I would call an extra-light Gothic romance, and is the perfect lighthearted escape read. If you like cottagecore, cats, witchy magic, herbalism, light drama and lovely landscapes like in the newest Masterpiece adaption of all "Creatures Great and Small" with some added mystery and magic, then this book is your jam.
Fans of books like Monica Furlong's "Wise Child" and "Outlander's" witchy herbalism plot threads will also likely love this book. (And with a main character's name like Geillis, how could one not think of "Outlander"?) Hopefully, Masterpiece Theatre will one day adapt this story. It would make the perfect limited series. Have any of you read "Thornyhold"? I'd love to hear your thoughts and any other magical book recommendations you may have. Let me know in the comments below. ✨
---
Thanks for stopping by, and be sure to check back for more upcoming news as well as updates on my forthcoming fantasy novel, "The Last Wizards of Tynedale", with my co-author John Bladek. And if you'd like to be alerted of upcoming giveaways and magical news, sign up for my seasonal newsletter at the bottom of this post. (I don't sell email addresses, btw. No one likes that, especially me, and that's just evil and punishable by unicorn horn impalement. Truly.)
Thanks so much for reading!
Stay magical,
Davonna