This has literally been the year of meeting my childhood heroes. On top of getting to shake hands with Brian and Wendy Froud (The Dark Crystal, Labyrinth) this summer, last Tuesday my idol — Peter S. Beagle — one of the literary community's most heralded fantasy writers, stopped by Central Cinema in Seattle.
The Last Unicorn, written by Peter S. Beagle in 1968, has held a special place in my heart for over two decades. Unicorn was adapted for the screen in 1982 and produced by Rankin/Bass, featuring the voice talents of Jeff Bridges, Christopher Lee, Angela Landsbury, and Mia Farrow.
I first saw Unicorn when I was six and the movie stuck with me. Much has been said about this beloved classic; particularly on its philosophical depth and stark insights on humanity. For me, among the vast sea of happily-ended, cutesy children's films in the 80s, Unicorn set the bar and stood out like the mermaid I always hope to find sitting on a beach someday.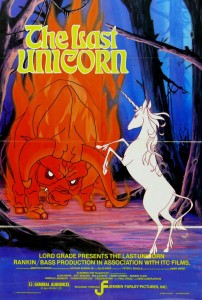 The film follows an unlikely group of travelers as they seek answers about the disappearance of unicorns throughout the world. Through a bittersweet and highly engaging story, the narrative opened my young eyes to a very important lesson: not everything works out quite the way you hope. Unicorn gently taught me that the bonds of friendship and sacrifice help one to weather the stormy seas of life. Another takeaway from the film was that life's magic does as it will. Or, sometimes different paths lead us to where we need to be, not where we expect to go.
I didn't understand all that at the time, what with playing dress-up in a purple gown, singing along with the film, and fending off Mommy Fortuna and Harpies, but I came to appreciate these lessons later.
It wasn't until I was in my early 20s that I would fully understand the depth of the story. I discovered that The Last Unicorn was actually based on a book. I sat down and read it in one sitting, so enthralled to finally return to the world I loved. Later, I snagged a copy of Beagle's novels A Fine and Private Place, The Unicorn Sonata, and his short story Two Hearts. A couple years down the road, a friend bought me a copy of The Last Unicorn DVD to further quell my fixation.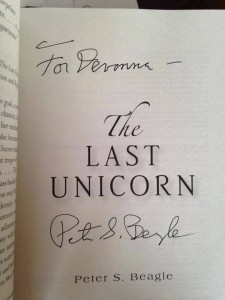 Then in 2013, my heart stopped when I saw that Peter Beagle would be touring and screening a restored version of The Last Unicorn in movie theaters all over North America. I was crushed when I saw the dates and realized I would be out of town during the Seattle tour stop. After checking other dates and locations, I saw that the tour would be stopping in Spokane, Washington. I have a very dear friend in Spokane whom I asked to go to the screening and get me a signed copy of the book. At least I would have Peter's signature.
Fast forward to three weeks ago when I spotted on Facebook that another screening and signing would be held in Seattle. I bought tickets within seconds and was glad I did. The showing sold out. Another two were added that same day and not surprisingly these sold out as well.
When I arrived at Central Cinema, it was packed. Fans were lined up to get into the building. Merchandise tables (I GOT UNICORN LEGGINGS!) along with a signing nook for Peter, complete with bard's skull, were set up in the main lobby. Guests were greeted with beautiful Unicorn tribute art and the audience was ushered into the theater where servers took our orders for entrees, drinks, and appetizers.
I wish I could explain how grand it was to see the film on the big screen, something I never got to experience before. The movie became a transcendent experience, seeming even more real for me. I teared up at the same parts I had as a child, reaching for tissues more than once.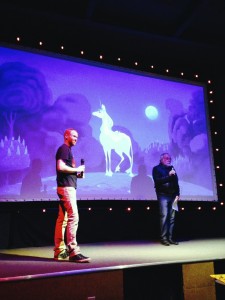 Afterwards, Peter came up on stage for a very fun Q and A. He described in detail the inspiration for the book. It was interesting to hear him list The White Deer by James Thurber and T. H. White's The Once and Future King as some of the chief muses for his book. Beagle also announced that a musical adaption for Broadway was in the works.
But the real magic happened after the show as I waited in line for the signings. Meeting Peter was everything I'd hoped it would be. He was the kind, gentle, soft-spoken, and good-humored man I always envisioned. The kind of guy you want to sit down by the fire and share an ale with so you can listen to all his wonderful stories.
I also had a delightful time learning how Peter's team, other fans, and supporters built a grassroots success of the now longest running screening and book tour in North American history. When it finishes in August 2016, The Last Unicorn Tour will have run 3 ½ years and is scheduled to visit 19-20 countries in 400-500 locations.
When Peter finally signed my graphic novel, it took all I had to remain composed. Somehow I managed. My only regret was I don't think I found just the right words to tell him how much his work meant to me, including his helping to lay the foundation of some of my basic ideas and outlooks on life. I can only hope I did.
To be sure, Peter knows how beloved he is. As one fan put it during the audience Q & A: "If stories live on in the memories of men forever, you, sir, are immortal."
You are, Peter, you truly are.
A big thanks to all of you who've stopped by to read this write-up! If you get the chance, please check out the tour dates to go see The Last Unicorn in a theater near you. Hopefully after the tour is over, Beagle and his manager will start an UniCon in their spare time. I can dream, can't I?
If you're feeling 80s-fantasy nostalgic, check out my post on Toby Froud's (the actor who played the baby in Jim Henson's Labyrinth) premiere of his live-action puppet short. And if you don't want to miss updates on all things magical, subscribe to my email newsletter. (Btw, I don't sell email addresses. That's just evil and punishable by unicorn horn impalement.) 😉
[wysija_form id="1″] Stay magical!
Davonna