Nestled away in the enchanted city of Charlotte, North Carolina, is a very magical soul by the name of Ambur Rose. Part human and part pixie, Ambur is one of the premiere fantasy jewelry designers, creating gorgeous, otherworldly pieces fit for fairy royalty. Formed with fairy dust and a hint of glamour, Amber's designs transcend conventional jewelry pieces and have the power to transform a wearer into the ultimate fairy queen.
One of the chief reasons I love fairy and folk tales are the gorgeous wardrobe choices that storytellers and illustrators have created for these tales for centuries. Whether it be Cinderella's shoes or Belle's elegant dress, I'm always thrilled to see enchanted fashions brought to life on the page and screen.
Ambur's designs unabashedly bring us all just a little closer to making those fairy-tale-fashion worlds into realities, and others have taken notice, too. Ambur's exquisite work has been featured in: Time Magazine, People, Huffington Post, Martha Stewart Weddings, Cosmopolitan, and the BBC to name just a few. Her elegant headpieces were showcased in a stunning "Game-of-Thrones" styled wedding that would make any GOT fan drool.
And drool we do. When I first saw Ambur's work, I became transfixed by the beautiful models showcasing her designs. Hours passed as I pored over all of her beautiful pictures, imagining myself wearing each piece of glittering jewelry.
If only Peter Jackson had known Ambur at the inception of the "Lord of the Rings" films! Her shoulder adornments and crowns are more than worthy of bedecking stately elves like Arwen and Galadriel. (Amazon, if you're reading this and you really plan on making a new LOTR series, you need Ambur's designs, so your elves can have the ultimate glam pieces in their wardrobes.)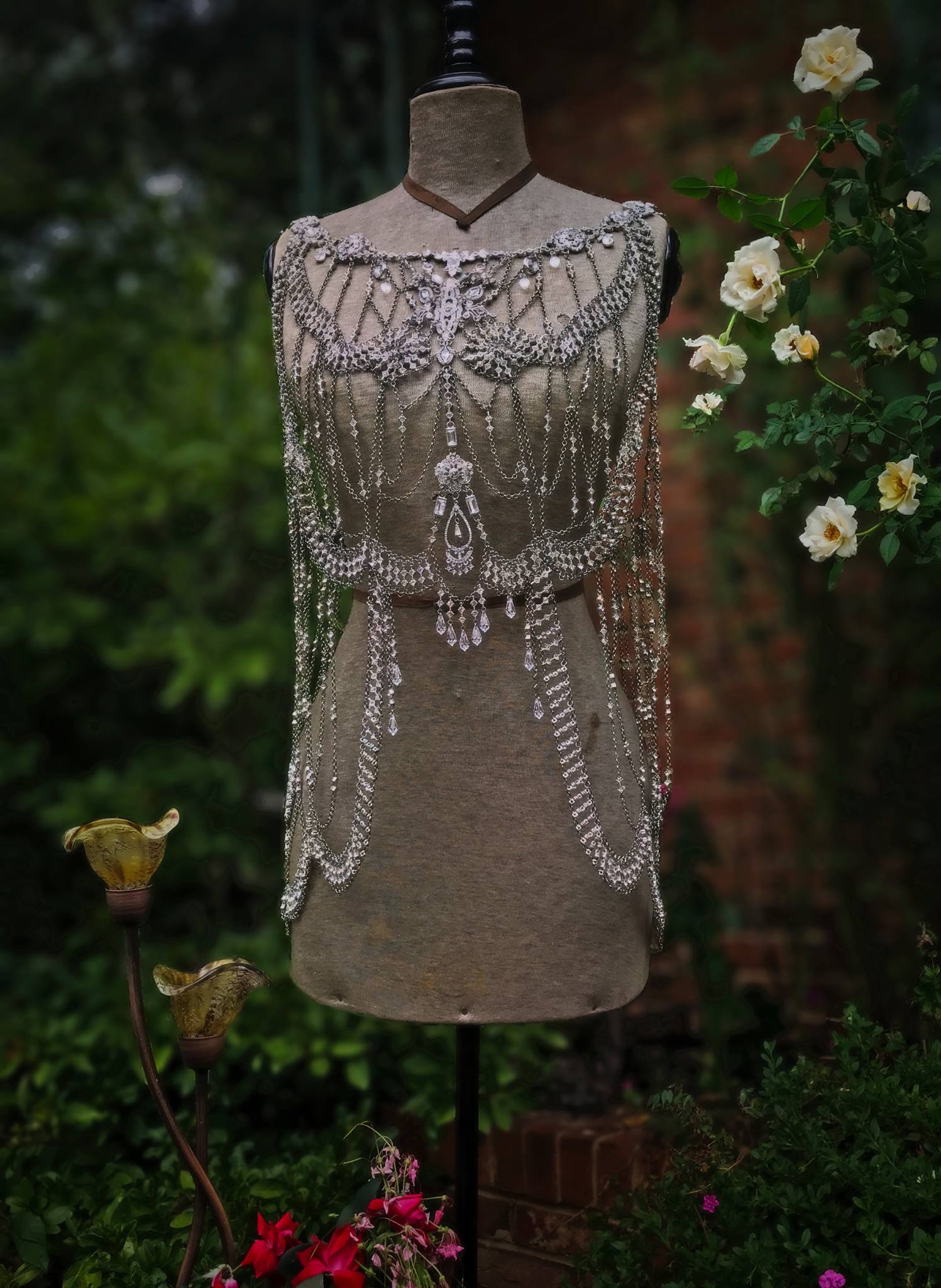 A true star within the fairy-tale-fashion community, Ambur joined me today to answer some questions about how she got her start in such a magical business. She also discussed what inspires her, some tips on how to add a little more magic into your own life, and she shared an enchanting short story that will put you in the perfect magical mood.
DJ: Welcome, Ambur! Please tell us how you got into jewelry making? What inspired you about that form of art? And was there a special school or class you attended to learn to create jewelry?
AR: Years back, I pursued my love for drawing as a full-time career. Trying something new, I shrunk my art to miniature, placed them in empty watch cases, and added vintage beads to create necklaces with a Fantasy-Nouveau feel.
Creating that first necklace was a total eye-opener. Imagine you have two unruly kids living inside you – a science geek and an artist – and you just discovered the one thing they both can play nice over!
Most of what I've learned is through a self-taught process, whereas an artist, jewelry is the medium of choice.
DJ: What challenges did you face creating and launching Ambur Rose Designs? Can you tell us how you were able to overcome one of the difficulties?
AR: Budget is everything…said no artist ever.
Constantly learning how to be creative with what's on hand is always a balancing act. Your head screams for a hundred different tools and helpers to make life easier, while your heart cheers: "No need. You can do it ALL!"
In the end, progress is made while new challenges arise, but because you love what you do, it's the Best. Day. Ever.
For instance, when I attended my first artist market, my heart sank when I noticed a few of the business cards I'd handed out left on the ground. To stop that from happening again, I knew I had to find a card people would covet.
A fairy-esque calling card with scrolled cut-outs came to mind, and there was a printer that mainly printed invitations willing to try the idea. The cards were way over budget, of course, but I was already setting aside money for them.
With a little further ingenuity, I wound up crafting a double-sided card with design fonts via a home printer and several different cut-out punches.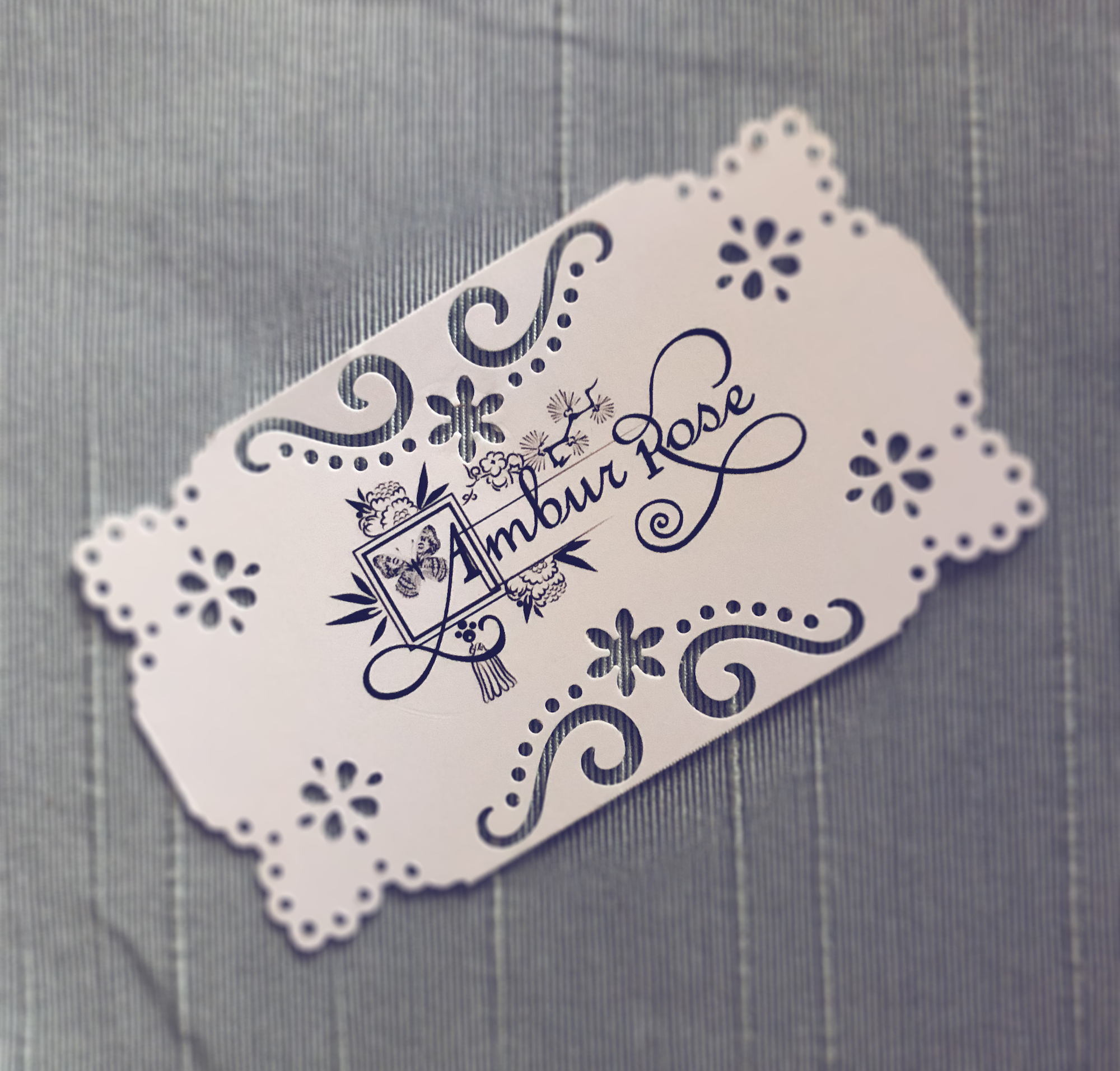 Voila! What would have cost $360 for 500 cards elsewhere, wound up costing only $25 with paper, ink, and a little trial and error on my own.
Proving to myself it could be done affordably was like slaying a dragon with dollar-bill eyes!
DJ: What inspires your work and creations most?
AR: Every fairy tale ever.
When I was a child, bedtime fairy tales kept me awake (instead of the opposite) thinking about…normal-life stuff.
Fairy-tale props like Cinderella's glass slipper would dance in my head. I'd ask myself questions: Where is the shoe now? What does the slipper really look like?
And what about Cinderella's fairy godmother? How did she know what magic to whip up so Cinderella realized she'd always been beautiful?
Creating has a lot to do with finding your own answers. For me, imagination transports me to this enchanted faraway place filled with heirlooms from every fairy tale, and through jewelry artistry, I'm given a means to define it.
As long as there are fairy tales, there's never-ending inspiration.
DJ: What's your all-time favorite piece, and where did you get the idea for it?
AR: Wow, that's like asking a mom who's your favorite kid!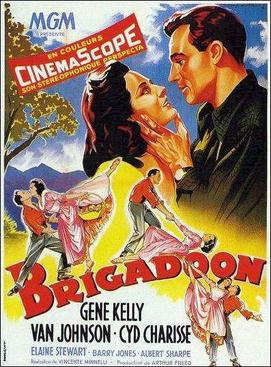 The necklace I wear entitled, "The Legend of Brigadoon", is one of the first fairy double-winged necklaces I've made. It combines lore and story into a single short tale I wrote based on two magical, Scottish elements: Dunvegan Castle's Fairy Flag and the town of Brigadoon.
The Fairy Flag, held at Dunvegan Castle, is an historical heirloom belonging to the chiefs of the Scottish clan MacLeod. The cloth is known for its association with Celtic fairy traditions as well as its supposed mystical properties. Made of silk, it is yellow in color and bespeckled with small red "elf dots".
Brigadoon is another magical "Scottish" place. The location is an enchanted, fictional village, and the town's name was made popular by the 1947 Broadway musical and movie. "Brigadoon's" story involves two American tourists who stumble upon Brigadoon, a mysterious Scottish village that appears for only one day every 100 years.
Briefly, my short story is about a fairy who gives up her immortality to save the man she loves. When her father, a fae king, realizes the sacrifice his daughter has made, he enchants the surrounding kingdom to prolong the life of the beloved couple.
This very necklace paved the way to create fairy centerpieces ever since, which are distinctly characteristic of Ambur Rose Designs. The necklace isn't part of the story, but the piece is a tribute to the tale.
Today, I'd like to share my enchanted short story that inspired the necklace below:
The Legend of Brigadoon
(c) story by Ambur Rose

He'd felt her all his life.
As a child, there had been flashes of auburn tresses with glimpses of gossamer swirling past…
As he grew in age, the sightings were less, even though there were reminders that touched his heart; a sunny patch of meadow in winter to warm him from freezing, a barren tree cropping fruit when there was none to fend off starvation.
This time he glimpsed her he was wounded, and he knew he could perish.
She came to him then, this fairy-angel with bright eyes and compassionate heart. She tore away her everlasting gossamer cloak, covered his wounds, and whispered a promise before she left him to heal, "Our hearts are one…always."
When his wounds healed, he traveled to an enchanted glen some spoke of to find his love. He carried her gossamer threads as his banner. Upon arriving at the kingdom of Brigadoon, the faery's father King Oberon recognized the man's flag, and the fae king realized his precious daughter gave more than her heart – but her fae eternal life to save this man's own.
You see, the life of mankind is but a blink of an eye in comparison to fae eternity.
To stay the loss of his now mortal daughter, and grant the couple as much happiness with what time remained, the king enchanted his kingdom of Brigadoon.
Only one day would pass for every hundred years of sleep.
For them, time would stand still, weave seamlessly into centuries, and keep those precious to the king safe and cared for. With that, the king gave the couple his blessing.
To this day, some say when moonlight touches certain Scottish moors, you can nearly make out the sleepy kingdom of Brigadoon in all its ethereal beauty, as well as hear the dreaming-contented sighs of those in love.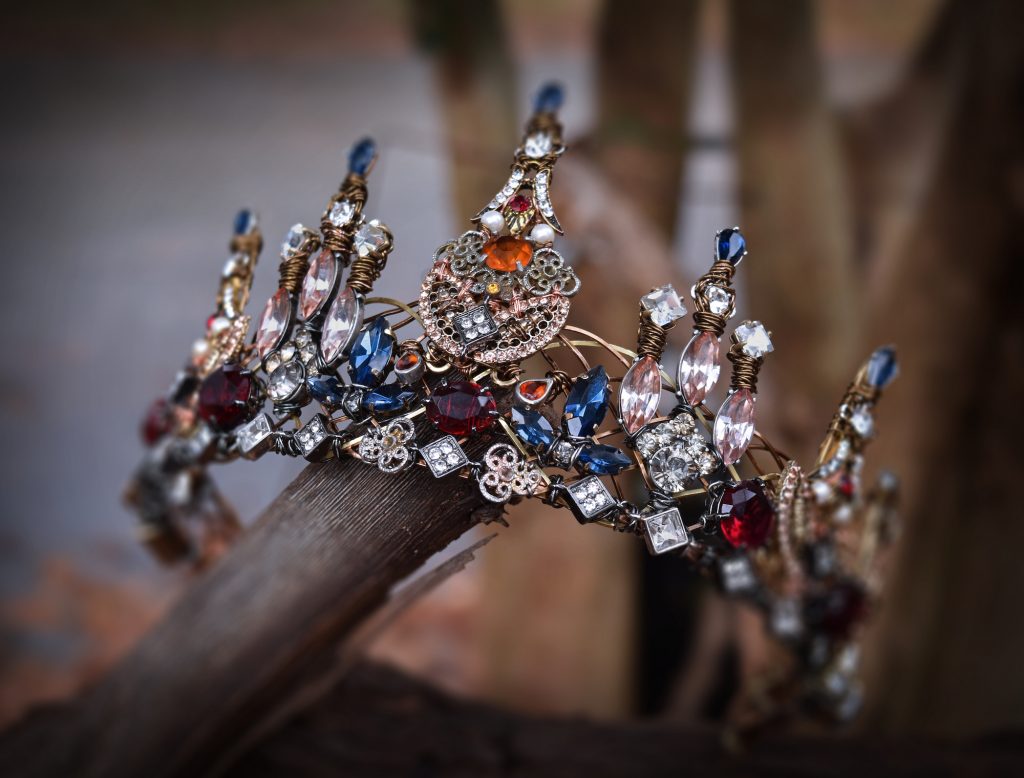 DJ: Can you tell us about your process, from idea to finished work?
AR: It starts with a feeling. Most times it's a fairy tale, a painting, or even an incident that pulls both the heart and imagination into creating.
What follows are loosely drawn ideas, then figuring out which techniques and materials to use, and finally, an estimation of how long the project will take.
With a bit of trial and error, my inner scientist and artist will experiment with size, weight, look, drape, design, and appearance to gain that fairy seal of approval!
When the creation is finished, I'll take pictures of the piece, notate its schematics, and map it for possible future versions.
Finally, it will make its debut with either a written story and/or the telling of its inspiration.
DJ: If money weren't an object, what would be your ultimate dream piece to create, and who would you design it for?
AR: HA! I've already got the dream piece drawn. Apologies that I can't share that render/design sketch yet, but I can tell you about it!
It's a 360-full-length body adornment that drapes the entire person. It'll be composed of Swarovski jewels, mother of pearl, delicate dimensional flowers with vining, all dotted with butterflies and dragonflies.
The composition will mostly be in sterling silver since the metal has just enough weight to drape, balance, and move beautifully with the wearer without being cumbersome.
There's no one in particular in mind to wear it since it's always an honor to see these creations worn by anyone!
DJ: What's one piece of advice you could give to artists and creatives?
AR: Keep your sense of humor and a sense of adventure because it's all a journey. Just trust your instincts and have faith in your creativity.
When times get tough, think of this aphorism: Sometimes we have to run into the wind to see the kite we build soar above the clouds.
DJ: What is it, do you think, about fantasy artistry that makes it such a special medium?
AR: I believe fantasy is the catalyst for everything. We all utilize something in our lives that once was nothing but fantasy.
It's one of the main reasons why fantasy artistry in all forms is such a special medium. Anything you can dream can be brought into being if you just let your soul express itself.
DJ: What's in store for the future of Ambur Rose Designs?
AR: Exciting happenings are already underway, and here's two I can tell everyone about:
1) Recently, designer, Emily Kramer (of Emily Kramer Designs), and I have joined forces under The Wolf and The Rose to dedicate ourselves to incredible art fantasy projects and collaborations.
You can follow our adventures through social media and our website:
The Wolf and the Rose
www.wolfandtherose.com
IG : @thewolftherose
FB: www.facebook.com/thewolftherose
2) Also, I'm currently underway creating a jewelry line of accented elements for future designs. This way, once a piece is completed for a project, there's a limited number available to individuals and independent galleries when it debuts instead of just the original creation.
DJ: So many people would love a little more fairy glam in their lives. As a very magical person, what are your biggest tips to share so others can add a hint more enchantment into the everyday?
AR: First, thank you for that giant compliment; I'm humbled by your kind words!
As far as I'm concerned, there's no wrong way to express fairy anything, so long as you shine.
Just remember to pay homage to your own special beauty. It doesn't matter if it's a fountain of gems or a dab of primrose behind the ear – when you realize how enchanting you truly are, everything is magical.
DJ: Best of luck to you, Ambur, and thanks for stopping by and for sharing all of your fairy-tale magic with us!
Make sure to follow Ambur Rose Designs via social media and check out her website to find her latest updates, view the enchanted gallery of pieces she's created, or commission a piece of your own:
Ambur Rose Designs
www.amburrose.com
IG: @ambur_rose_designs
FB: www.facebook.com/amburrosepaa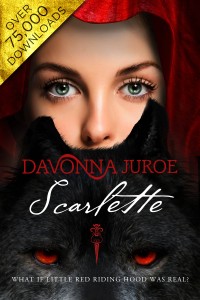 And if you are looking to add more enchantment and fairy tales into your life, you can read my internationally bestselling novel "Scarlette: A Gothic Fairy Tale" for FREE this entire week. Sign up for my newsletter below to receive your free copy, to learn more about this historical fairy tale, and be updated on future giveaways and all things magical.
Stay Enchanted!
NEWSLETTER SIGN UP
[wysija_form id="9″]