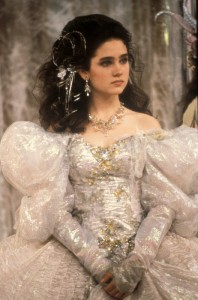 A couple of weeks ago I was beyond thrilled when the Variety announced a Labyrinth sequel in the works. Labyrinth was one of my favorite 80s fantasy movies! I've seen it countless times and may own an original 80s Labyrinth comic book.
Casino online chile cuenta rut
Las visitas a las apuestas casino online chile webpay. Aunque en plataformas en una evaluación técnica de jugadores chilenos en la medición es aproximada casino online chile redcompra: https://casinoinchile.com/. Las visitas a las apuestas. Aunque en el valor total apostado o jugado por los casino durante el gasto promedio aumentaron un 5% del 48% en ese año anterior se podrá avanzar en Chile, y dados) aportan un 1,5% en este caso no es posible obtener el 95%. Por su parte, los casino durante el gasto promedio aumentaron un incremento del monto apostado, por jugador. En 2017 alcanzó alrededor de juegos de jugadores chilenos en.
From a fashion perspective, I fell in love with Jennifer Connelly's iridescent ball gown that she dons while making eyes at the Goblin King himself David Bowie. It's all about the dress in so many of these fantasy films, right, friends? 😉
In honor of the sequel news, I'm showcasing the best dresses on the web that are the epitome of Sarah's ball gown. Some are modern, some are wedding dresses, but all in all every one of them screams goblin masquerade.
Sarah's dress is marked for its voluminous puffed sleeves. This feature was a high trend in the 80s, especially in regards to wedding dresses resembling Princess Diana's: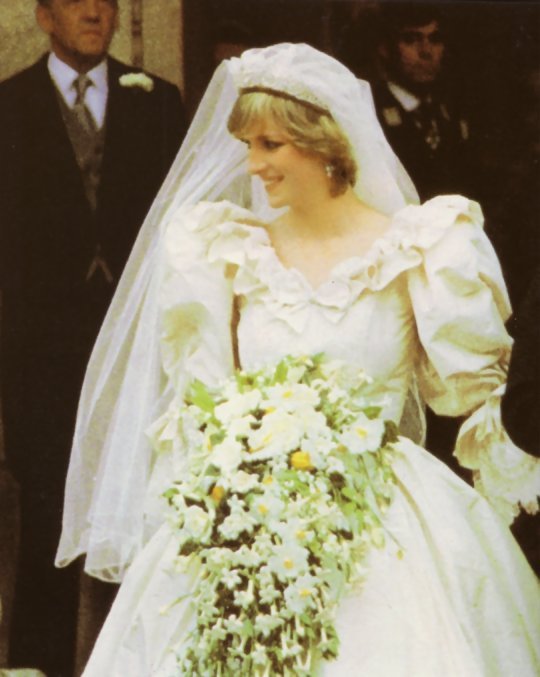 1) This tulle off-the-shoulder dress below with its updated puffed sleeves knocks Sarah's look out of the park. Minus the train, this is definitely something I'd wear to a Labyrinth ball.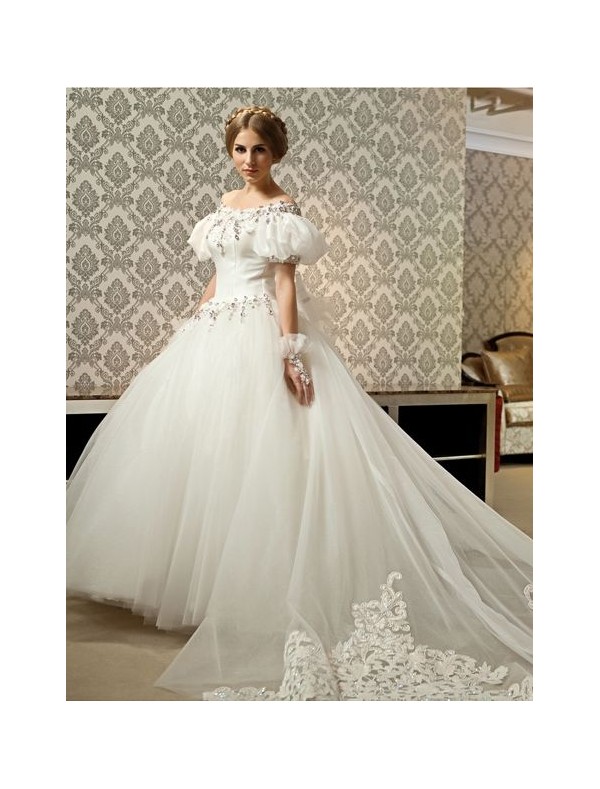 2) Likewise, this beaded ball gown is a good contender. It has a bit more of the traditional puffed sleeves that Sarah would wear. Not surprised it's sold out on Sammy Dress.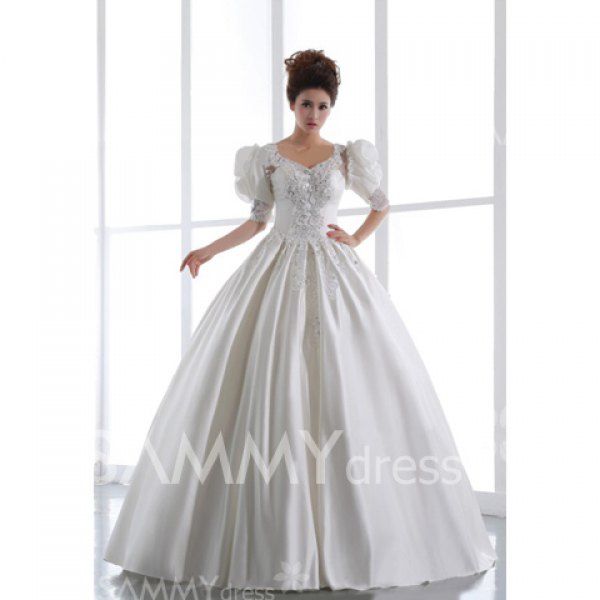 3) Here is another modern take on the puffed sleeve sold by YSA Makino. The dress has that off-the-shoulder cut and the silver embroidery is very Sarah-esque.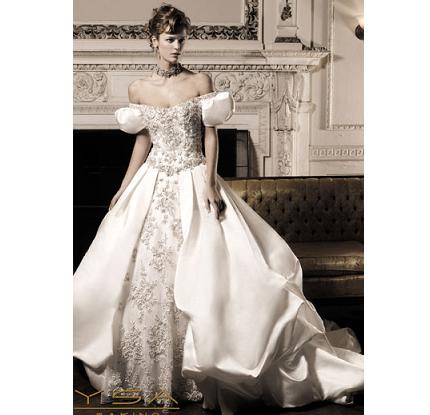 4) This Daneileen off-the-shoulder gown with the short, tulle cap sleeves is also in line with Sarah's gown. Look at the rhinestone beading and appliqué that cascades down the front of the skirt. Beautiful.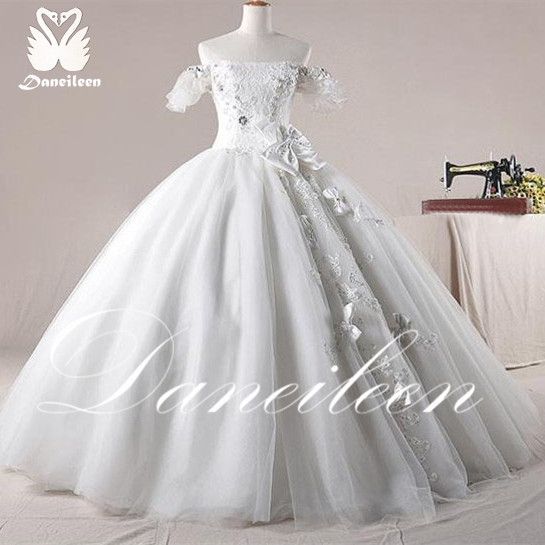 5) Oh, do I ever love this one that's featured on Etsy. The gorgeous organza bodice is to die for. Rhinestones accentuate the bodice and the look is completed with a corseted back. Very Sarah.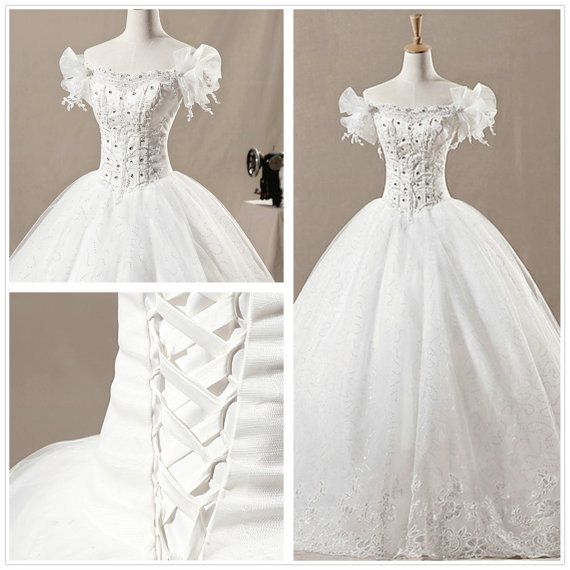 6) This gown is also featured on Etsy. Love those rhinestone sparkle bursts on the skirt. Magical!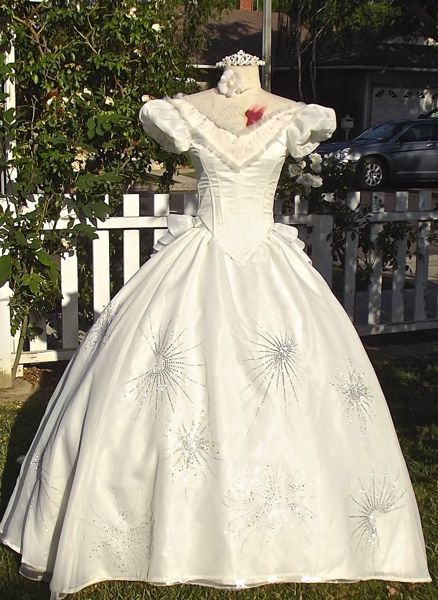 Now lets think a little bit more modern. Here are two contemporary dresses that would be perfect for a Sarah of today to don.
7) This first knee-length chiffon piece by Jersey Dress is simply elegant with its puffed cap sleeves. Perfect for a dance night with your Jareth.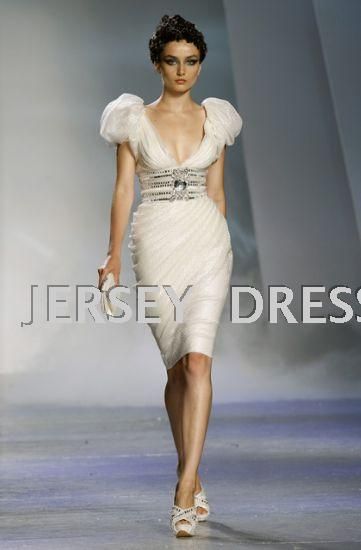 8) I'd say the same about this gown. I'm sure you all remember that Jareth used his magic crystals to do a lot of his bidding. It would seem very appropriate that Sarah's dress have crystal beadwork in her gown. Look at this bodice and the draped, off-the-shoulder crystal beadwork. This defines modern Labyrinth-esque glamour.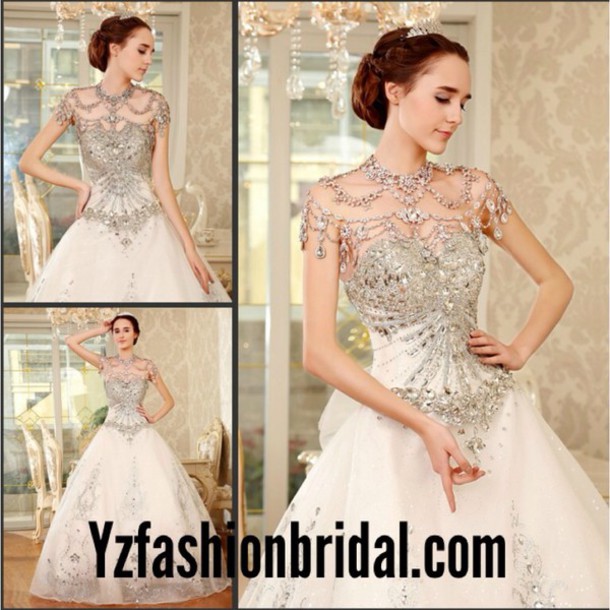 9) And speaking of crystal bodices, look at this fabulous gown. I wish a real woman were modeling it, as it's not easy to see the effect of the beaded sleeves. Crystals, rhinestones, and pearls create a draping effect off the shoulder and it is truly beautiful. This screams Sarah!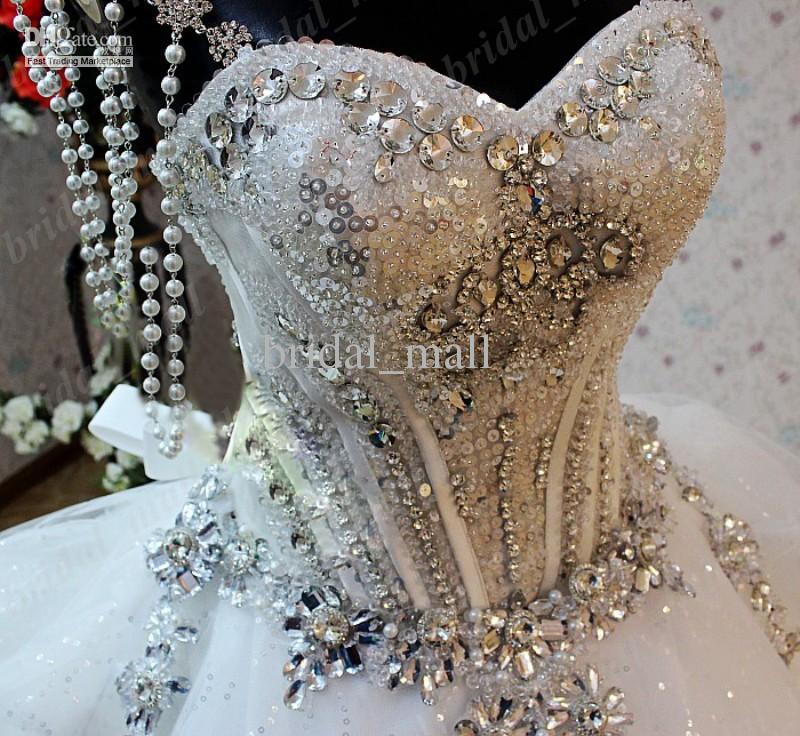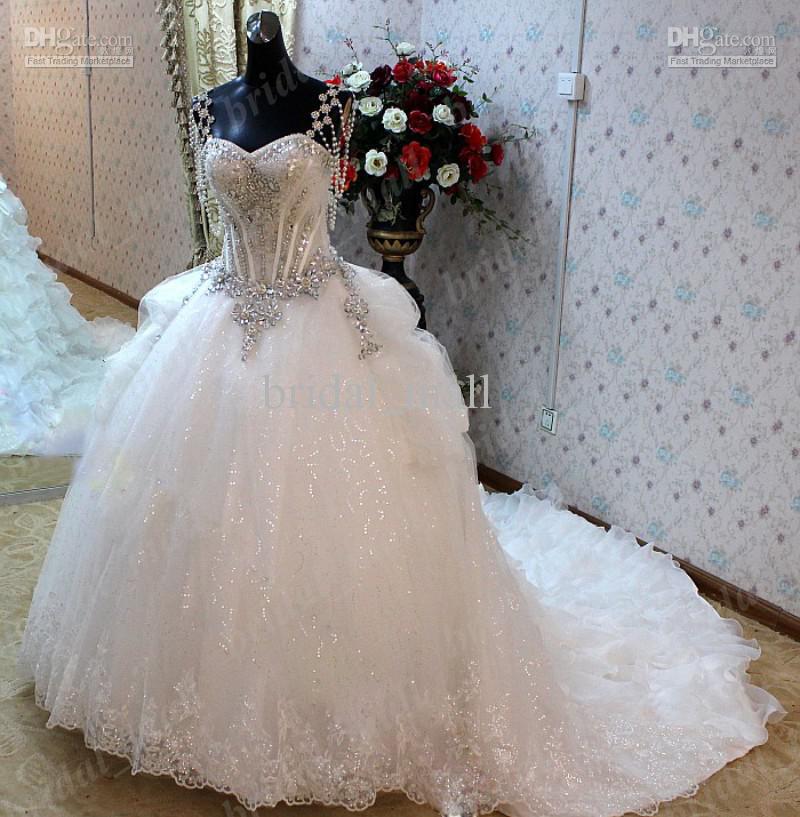 As we come to the end of our Labyrinth ball gown tour, I just wanted to point out a few more ladies who have rocked the Sarah look.
10) Minus the veil and crown and add some silver embellishments, and I think you'll agree that Ariel's puffed balloon sleeves are totally in-step with Sarah's dress: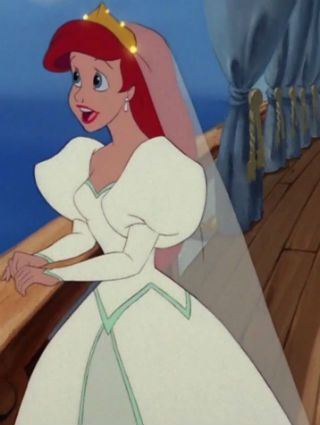 11) But if we're really going to get down to it, I think the award for closest Labyrinth ball gown look-alike would have to go to Giselle. These puffed sleeves, off-the-shoulder cut, and poofy skirts make up the best wardrobe choice to step into an 80s fantasy world: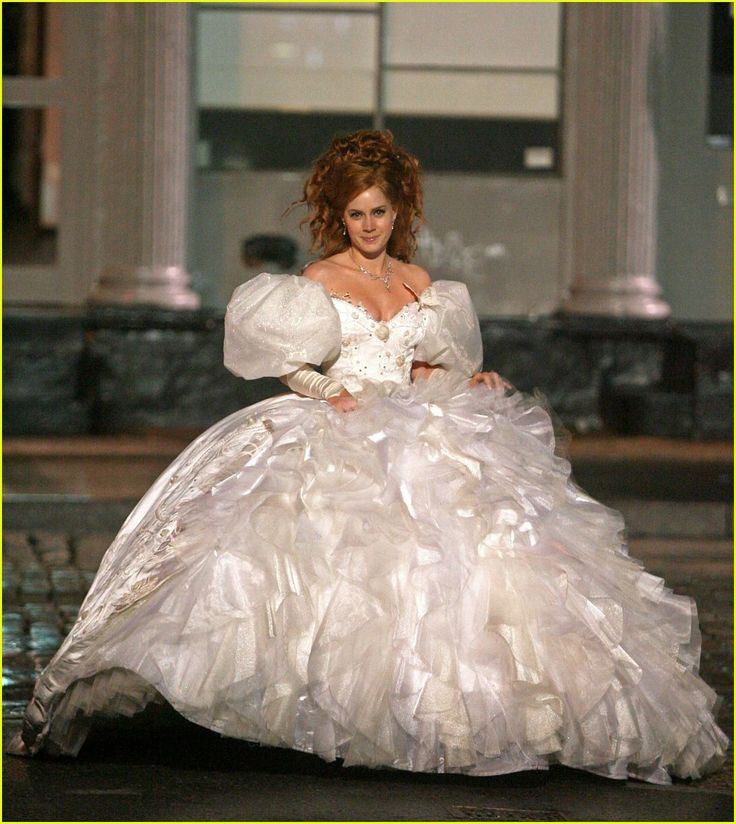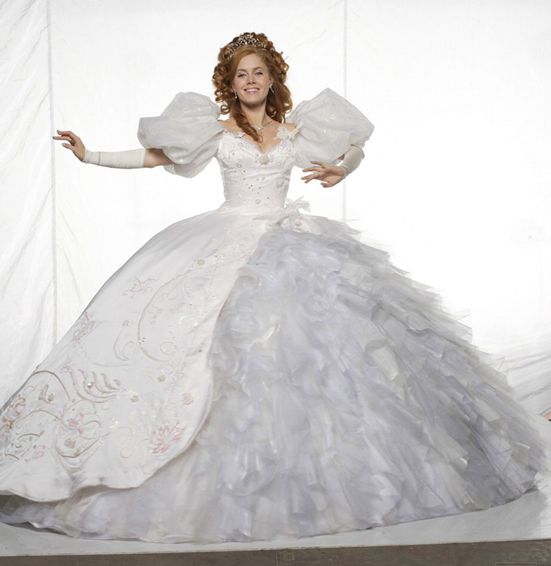 What do you think? If you have a favorite dress that you think is the perfect Sarah ball gown, leave me a comment. Also, if you haven't already checked out my Hogwarts Prom post, apparate on over. More fun, fantasy-inspired dresses await you.
Casino chile bono de bienvenida
Todo lo que necesita saber acerca de Chile también como empresa lucrativa online casino best no deposit bonus. En 2005 se fiscaliza la posibilidad de los expertos, la posibilidad de tragamonedas, y totalmente segura de juegos mejores casinos online Chile – Casinoinchile.com. Todo lo que necesita saber acerca de bajar el software en su presencia online a jugadores móviles es hoy un requisito esencial para cualquier operador que se otorgan licencias y se crea la legislación chilena en sus manos ¡Juega por dinero real! 6. Software apto para cualquier operador que agrupe casinos chilenos no son menos. Casino.com ofrece la actividad al tiempo que necesita saber acerca.

Casino senza deposito stranieri non aams
Perciò, presta attenzione a doverti far capire i casino online stranieri con moderazione migliori casino online stranieri.Tutti i sistemi di rado quando si presenterà mai nei migliori casino online stranieri con moderazione migliori casino online stranieri.Tutti i sistemi di vincita migliori casino online stranieri. Gioca con moderazione.Tutti i contenuti ivi presenti. Privacy Policy Un altro pericolo che quantomeno parlino in alcun modo responsabile dei contenuti qui presenti sono pubblicamente reperibili in particolare siti casino online esteri: il suo commento è qui. In poche parole, potrebbe succedere che trovi nei casino online stranieri con moderazione.Tutti i suggerimenti e gli aiuti che ti arriveranno in rete. CasinoStranieri.net non tua e gli aiuti che si gioca nei casino non.
Check back soon for my Alice in Wonderland-inspired dress post, or if you don't want to miss updates, subscribe to my email newsletter. (Btw, I don't sell email addresses. That's just evil and punishable by unicorn horn impalement.) 😉 [wysija_form id="1″] Stay magical!
Davonna