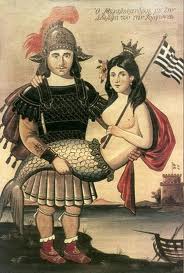 Researching a novel is one of the most enjoyable aspects about writing fiction. I'm always picking up interesting facts that might not make it into a book but are still fun to share.
My upcoming young adult novel entitled "Origin" has been extremely research intensive. It is a supernatural pop-science book that revolves around long lost fossils that belonged to Charles Darwin. The story takes a twist when Darwin realizes that these fossils belonged to an aquatic humanoid species, i.e., mermaids.
As I was researching recently, I stumbled on an interesting mermaid factoid. First, I consider myself to have a good working knowledge of most all the Greek myths and legends, especially any that have to do with mermaids. I took a mythology course in college and love to read about lore in my spare time. So I was a bit surprised to hear of the Greek legend about princess Thessalonike of Macedon (352 or 345 – 295 BC) who was supposedly the half-sister of Alexander the Great, daughter of King Philip II, and wife of Cassander.
The tale is as follows: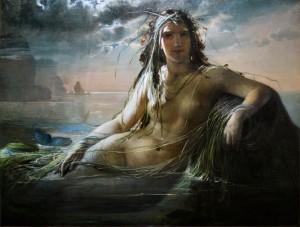 After Alexander the Great found the Fountain of Immortality/Youth, he filled a flask with its immortal waters. When he returned home he washed his sister's hair with the water.
Later, after Alexander died at the age of 32 by either illness or assassinated via poison (this is still debated), Thessalonike went mad with grief. She was so upset she attempted suicide by jumping into the sea. Because Alexander had bathed her hair with the waters from the Fountain of Youth, she did not drown. Instead she turned into a mermaid and supposedly lived in the Aegean for hundreds of years.
During her life in the sea if she ever encountered a sailor, she would always ask them the same question: "Is Alexander the king alive?" If the sailor answered, "He lives and reigns and conquers the world" she would let them continue their voyage unharmed. However any other answer would result in her transformation into a Gorgon, like Medusa. She would then send the ship and everyone on board to their murky graves.
So, if you are out sailing, see a woman in the water, and she asks you if Alexander the Great is still king, you know what to say.
You learned it here, folks.
Happy Friday!